4-way Test Speech Contest and Committee members
The 2022-2023 Vocational Service Committee is as follows:
Bruce Van Cleve, Bearden, Chair
Karen Spivey, McMinnville Noon
Tracey Wright, Cleveland
The District competition will held on Saturday, March 4th , 2023. This year the Speech Contest will be held in conjunction with the Interact Conference.
Presentations will begin at 1PM EST.
Each club must submit the name of its sponsored competitor to the Chair of the 4-Way Test Speech Contest Committee by February 17, 2023
2023 Information is now available.
Please download the 4 Way Speech Guidelines & Manual here.
2023 Registration Form (Word) (PDF)
For further information or assistance with this project, please contact Bruce van Cleve.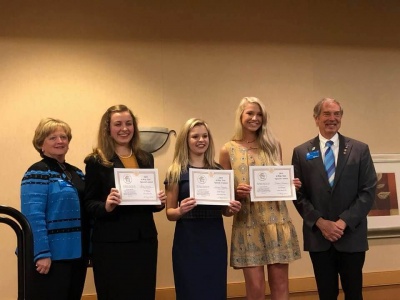 2019 4 Way Speech winners pictured with Vocational Service Chair Donna Fare and DG Jim Roxlo
2019 4 Way Speech winner
2018 4 Way Speech Winners: DGE Jim Roxlo, Aayush Patel (3rd place tie, Tenn Prep Christian, Bradley Sunrise), Parker Ferrell (3rd place tie, White Co HS, Sparta), Chloe Appiah (2nd place Kings Academy, Seymour Breakfast), Nicole Wiley (1st place Winner, Cleveland HS, Cleveland), DGN Greg Maciolek
The 4 Way Test Speech Winners 2017.
DGN Jim Roxlo, Mickeala Kerly, 2nd Place (Chattanooga Breakfast), Travis Taylor, 3rd Place (Bradley Sunrise), Loren Proctor, 1st Place (Seymour Breakfast), and DGE Debbie Alexander-Davis.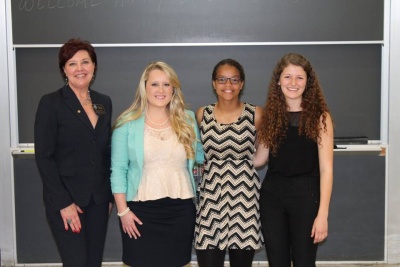 DG Beth Stubbs with the 2016 4 Way Speech Contest Winners
L to R: Carolina Hatfield, 3rd Place Winner (South Pittsburg), Danielle Quisenberry, 2nd Place Winner (Seymour Breakfast), and Julia Gonclaves, 1st Place Winner, (Cleveland)