Rotary Youth Leadership Awards (RYLA)
Rotary Youth Leadership Awards (RYLA) is Rotary's leadership training program for young people. RYLA participants can be ages 14-30, but most clubs and districts choose to focus on a narrower age range, such as 14-18 or 19-30.
PLEASE NOTE THAT RYLA FOR 2020 HAS BEEN CANCELED DUE TO COVID-19. LOOK FOR IT TO BE ON THE SCHEDULE FOR SEPTEMBER 2021.
RYLA emphasizes leadership, citizenship, and personal growth, and aims to
Demonstrate Rotary's respect and concern for youth
Provide an effective training experience for selected youth and potential leaders
Encourage leadership of youth by youth
Recognize publicly young people who are rendering service to their communities
RYLA 2018
2018 student zip-lining over the lake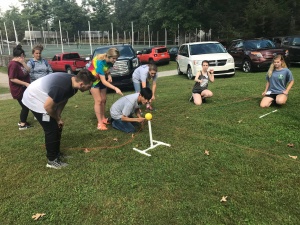 2018 RYLA students in a team building exercise
2018 RYLA Team building exercise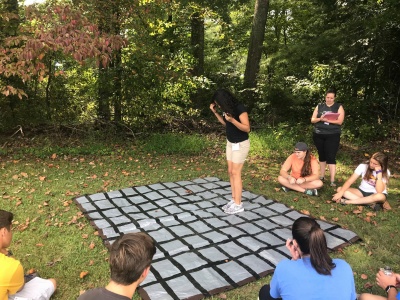 2018 Team building exercise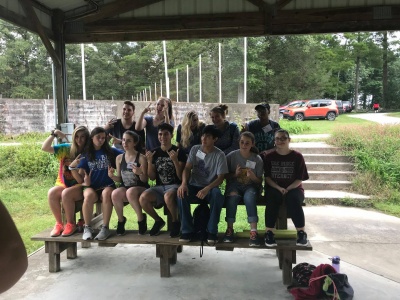 2018 RYLA students from Oak Ridge
WATCH A SHORT VIDEO OF RYLA 2019 - Double click on photo below.
The next RYLA SATURDAY will be:
Saturday, September 26, 2020
RYLA 2019-2020 District 6780 Committee
Don Randolph, Chair - Sparta
donald.randolph@lpl.com
John Downs, Sparta, Vice Chair
Megan Ownby, Secretary - Gatlinburg
Linda C. Shults, Past Chair and Advisor - Seymour Breakfast
Cody Wilhite, Treasurer - Sparta
Mickey Ratliff, Advisor - Sevierville Sunrise
Jeff Waldo, T-Shirts - Crossville
Betty Vickers, RYLA Certificates - Seymour
John Cheney, Advisor - Mt. Juliet
Michelle Ferrell, Advisor - Sparta
Pepe Perron, Advisor and Event Coordination - Crossville
The Rotary Clubs of District 6780 will again live our motto "Service Above Self" while showing our commitment to the District's youth by hosting our
28th annual RYLA in 2020.
This is a one-day, hands-on, leadership skills development program
open to outstanding high school juniors with demonstrated leadership qualities, selected by your club from high schools in your community.
RYLA SATURDAY, September 26, 2020
Camp Nakanawa, Crossville, TN
Proprietors: Rotarian Pepe & Ann Perron
Phone: (931) 260-8244 or 260-6061
Keynote Speaker: Dr. Ming Wang
Dr. Ming Wang, a Harvard and MIT graduate (MD, magna cum laude) who grew up in Communist China will be our RYLA keynote speaker. Dr. Wang is one of the few cataract and LASIK eye surgeons in the world today who holds a doctorate degree in laser physics. He has performed over 55,000 procedures, including on over 4,000 doctors! Dr. Wang has published 8 textbooks and holds several U.S. patents. He founded the Wang Foundation for Christian Outreach to China and the Wang Foundation for Sight Restoration, two 501c(3) non-profit organizations, which to date has helped patients from over 40 states in the U.S. and 55 countries around the world. All Wang Foundation sight restoration surgeries were performed free-of-charge. Dr. Wang delivered a highly engaging, inspirational, and educational program at the 2017 RYLA program and has agreed to return for 2020! Parents are welcome to attend Dr. Wang's RYLA presentation.
Registration/Breakfast: 7:30 – 8 a.m. Central Time
Seminar starts promptly at 8:15 a.m. Central Time
By June 1, 2020 please let us know, via the RYLA Club Acknowledgement form,
who your Club RYLA Coordinator will be and how many students your Club anticipates sponsoring.
~~~~~~~~~~~~~~~~~~~~~~~~~~~~~~~~~~~~~~~~~~~~~~~~~~~~~~~~~~~~~
Planned RYLA leadership enhancement activities include motivational speakers and leadership skills development exercises lead by ADVENTUREWORKS.

ADVENTUREWORKS is returning for its sixth year with a wide variety of enlightening and fun exercises, including the climbing wall, giant swing, zip line and low rope activities. Participants' critiques raved about last year's program, and this year should be even better.
Darren Johnson, interactive motivational speaker, trainer, and consultant will be returning. Additional speakers and workshops will be announced prior to the RYLA seminar.
COST: $120 per person – Registration is open to High School Juniors. Rotary clubs
are encouraged to send as many students as possible to this RYLA leadership
development experience! However, we have a group size limit of 150 students. All
meals, snacks, drinks, and workshop materials are included in registration fee. Late
registrations - $150 per person (applies to registrations received after Friday,
September 18 -- No exceptions!)

Non-Perishable Food Items: Every RYLA student is asked to bring no less than
four (4) items of non-perishable food which will be donated to local food banks
dedicated to feeding the hungry.

Transportation: Each sponsoring Rotary club is responsible for arranging the
transportation for its attendees. All attendees MUST be prepared to stay until the
RYLA program concludes. Those providing transportation for attendees if not staying
on-site for the event MUST provide contact information to the RYLA Committee prior
to their departure from site and make Committee aware of whether they or someone
else will be responsible for picking up students at the conclusion of event. If another
person will be responsible for pick up then that person's contact information MUST
also be provided to the Committee.

Dress: CASUAL – SHORTS, JEANS, KHAKIS, TENNIS SHOES. Layering would be appro-
priate to accommodate "unpredictable" weather conditions, as well as an extra outfit
and shoes for "possible" unforeseen mishaps.

REGISTER EARLY!

Selecting your students prior to the ending of this school year (sophomore year) will
ensure every attendee is fully prepared for this unforgettable leadership experience.
It will also allow the planning committee to prepare attendee work materials, name
tags, and include the personal data of your attendees in the annual printed RYLA
Program.

To avoid a late fee, registrations must be received by September 18, 2020.

2016 RYLA